Liver Transplant Surgery for Joseph Mathew
₹4.1 lakh
of
₹5 lakh
raised
Sep 25, 2022 – Bangalore, Karnataka (MCID-113-22-23)
Joseph has been suffering from chronic liver disease with portal hypertension for a long time. He was recently admitted to Amrita Hospital, Ernakulam, Kerala for further treatment. Doctors advised an emergency liver transplant, for which his wife has been identified as a suitable donor. The surgery which is a life-saving procedure is scheduled to be done in the next couple of weeks, but the family does not have enough money to fund this expensive transplant.
Joseph was working as a chit fund agent, and his wife is a primary school teacher. Their children Alwin and Edwin are still at school. Joseph's aged mother is also staying with them. Liver transplant surgery costs Rs. 22 lakhs; further follow-up and treatment would cost over Rs. 15,000 per month. They have no means to shell out this money, especially since Joseph and his wife would need complete rest during the coming months.
The family is reaching out to friends, well-wishers, and NGOs for help. MicroCharity is partnering with JCI Nalukody to help Joseph and his family during this difficult time in their lives. The fund collection is urgent since Joseph is admitted already, and the surgery is scheduled.
Sep 28, 2022 – Fund Raising Approved
MicroCharity approves fund request of Rs. 2,00,000
Scan & Pay – UPI QR Code – Google Pay, PhonePay, PayTM, AmazonPay etc
You can now donate to this cause easily using MicroCharity Trust's UPI QR code.
Scan the below QR code with your preferred UPI apps like Google Pay, PhonePay, PayTM, AmazonPay, MobiKwik or using any bank's UPI app. Just Scan the below QR code and pay! Its easy, fast and simple!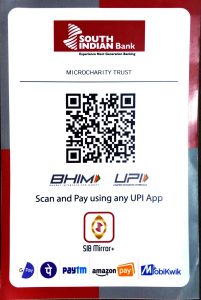 If you still prefer Credit/Debit cards, Netbanking, NEFT or Offline transfer, please use options below